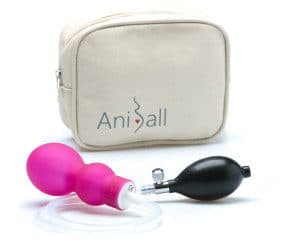 Aniball is a medical device for natural birth used at the very beginning so the woman can discover her pelvic floor, its strength and understand on what principle it works. Aniball is used for antenatal preparation and muscle regeneration after childbirth. It is designed for training the pelvic floor muscles, preparing the birth canal, and strengthening the pelvic floor muscles after childbirth.
Purpose of use:
Aniball effectively helps to strengthen the pelvic floor muscles, positively stimulates the vaginal muscles and helps practicing the alternating tension and relaxation of the perineum during antenatal preparation. The exercise's purpose is to facilitate the newborn's delivery (easier and faster delivery phase at birth), shortening the second stage of labor, and a significant reduction in the risk of episiotomies. Using the device after childbirth regenerates the muscles in the pelvic area, which reduces leakage a few months immediately after birth and the possibility of incontinence later on.
This medical device has been developed in cooperation with physiotherapists. It is the best training method aimed at avoiding tearing or episiotomies during childbirth.
Statistic of episiotomies from the year 2015 (800 women)